There's a text message scam making the rounds that could target your mail room staff, receptionist, or other employees. The FTC has tips on how you can protect your business.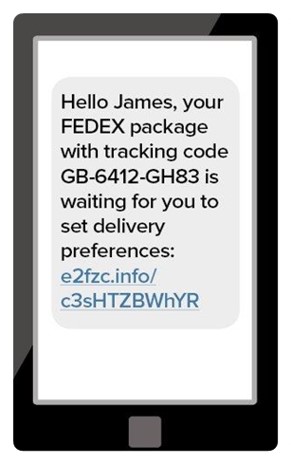 Our Consumer Blog describes a text message people are receiving that claims to be a FedEx tracking notice. In variations on the scheme, fraudsters also are falsely invoking the names of UPS and the U.S. Postal Service. According to the text, there's a "delivery" that needs to be scheduled by clicking on a link. From there, people are taken to an "Amazon" page, which invites them to complete a customer satisfaction survey. Then they're told they've won a free prize. Just input a credit number to cover shipping and handling.
But as the blog post explains:
The text isn't from a delivery service.
There is no package.
That isn't a real Amazon page.
That's not a customer survey.
And there's no free prize.
It's another scam designed to get people to turn over their account information – or your company credit card number. The Consumer Blog also introduces a new article, How to Recognize and Report Spam Text Messages, to share with your staff.
By the way, in addition to subscribing to FTC Business Blog Alerts, you can sign up for FTC Consumer Alerts to stay in the know about what you, your family, and friends can do to protect yourselves from the latest scams.